The COVID-19 pandemic brought about unprecedented changes in the way many companies operate. It's no surprise that the pandemic highlighted the importance of having remote-friendly options for media content creation pipelines. Cloud-based creative studios, such as those built using components such as HP Teradici, TrackIt's implementation of AWS-based Studio in the Cloud, and Hammerspace, address this need and are becoming increasingly popular among studios looking to facilitate remote work and more collaborative workflows.

Building a custom cloud studio with HP Teradici, Hammerspace, and TrackIt's expertise can be an effective solution for creatives and professionals who need to work remotely. With HP Teradici's PCoIP technology, creative professionals can access high-performance computing resources in the cloud, while TrackIt's AWS Studio in the Cloud implementation provides a turnkey solution for building a custom studio environment. With the addition of Hammerspace, companies can create and manage geographically dispersed, multi-cloud and hybrid storage solutions that fully integrate with their cloud studio. Together, these three offerings can help creatives collaborate while providing them with the flexibility and scalability they need to stay productive and efficient.
This article expands on the benefits of building a custom cloud studio and explores some use cases and the advantages it can offer over traditional studio setups.
Benefits of Building a Custom Cloud Studio
There are two primary benefits to building a custom studio in the cloud:
Benefit #1 – Remote Access to High-Performance Computing Resources
A custom cloud studio allows users to access the same high-performance computing resources as they would in a traditional studio without the constraints of physical proximity. This can be particularly beneficial for creative professionals who need to work remotely, or for teams that are spread out across different locations. With a cloud studio, users can collaborate on creative decisions and share files, while still able to access the same tools and applications they would have in a traditional studio environment.
Benefit #2 – Scalability and Agility
A major benefit of a custom cloud studio is the freedom to scale resources as needed. Traditional studios can often be limited by the hardware and resources available on-site, but a cloud studio can almost instantaneously scale up or down at will, while only paying for what is actually used. This helps keep costs under control while ensuring that productivity remains high, and enables responding to new business opportunities without having to wait for new hardware to be delivered and deployed.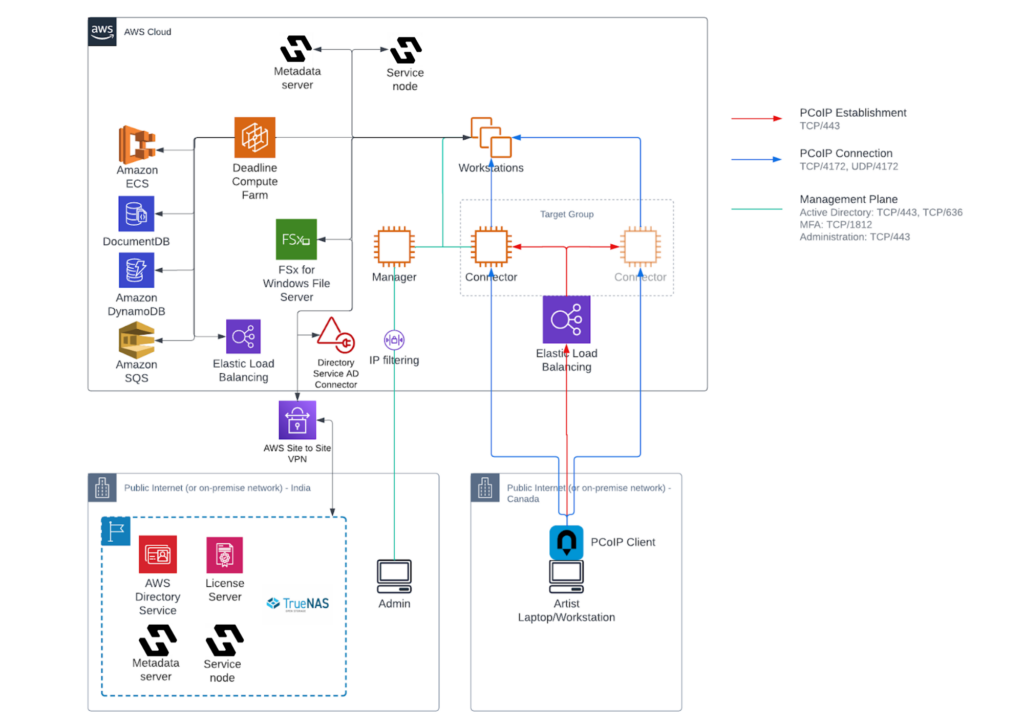 Unlocking High-Performance Remote Access with HP Teradici's PCoIP Technology
HP Teradici's PCoIP technology provides high-performance remote workspaces which allow users to access and run their applications on powerful cloud-based compute resources. This technology provides an optimal user experience by delivering audio/video content and processing power from the cloud or data center to a thin client or personal computer. The result is a smooth and responsive experience that can be indistinguishable from a local PC experience, with location independence for the user.
One of the key benefits of HP Teradici's PCoIP technology is the ability to offload processing power to the cloud, which can help to conserve local device resources and reduce infrastructure costs. Additionally, the usage of HP Teradici can also help increase security by keeping sensitive data in a secure data center, rather than on a possibly vulnerable local device.
Building a Fully-Managed Custom Cloud Studio Environment with AWS Studio in the Cloud
TrackIts implementation of AWS Studio in the Cloud provides a turnkey solution for building a custom studio environment on AWS. With AWS Studio in the Cloud, users can easily set up and manage their cloud studio environment, which includes configuring virtual machines (VMs), storage, and networking. Studio in the Cloud can provide access to a wide range of applications and tools including video editing software, VFX, and graphic design software.
A TrackIt implemented Studio in the Cloud enables users to focus on their creative work rather than managing the underlying infrastructure. This helps increase productivity, reduce costs, and also enables collaboration since users can access the same tools and resources regardless of their location.
Incorporating Hammerspace for Seamless Multi-Cloud Storage and Data Management
Hammerspace allows companies to create and manage multi-cloud and hybrid storage volumes that are fully integrated with their cloud studios. By including Hammerspace in their custom cloud studio integration, companies gain the ability to have a seamless and consistent storage platform across compute environments, whether it's on-premises, multi-cloud, or hybrid. This gives companies the freedom to easily migrate and share data across locations and clouds, and also simplifies data management and storage provisioning with a single platform.
Hammerspace also provides data management capabilities such as snapshotting, cloning, and tiering. This provides users and administrators more control over their data and simplifies data protection and disaster recovery.
Use Cases for Custom Cloud Studios
Custom cloud studios can be utilized for a variety of use cases. Some examples include:
VFX studios with geographically dispersed artists who need to work remotely, yet still need to collaborate with other project members, and require the same high-performance tools available in a traditional on-premise studio environment.
Editorial and post-production facilities that are migrating a growing number of workloads into the public cloud to facilitate geographically dispersed pipelines and distribution requirements.
Musicians who collaborate with other musicians on large ensemble projects with minimal delay and have the flexibility to scale the environment up or down on the fly.
Conclusion
Building a custom cloud studio environment with HP Teradici, Hammerspace and an AWS Studio in the Cloud implemented by TrackIt provides a comprehensive solution for creatives and professionals who need to work remotely. By providing access to high-performance computing resources in a managed studio environment and seamless multi-cloud storage access, a custom cloud studio can help creative studios stay productive, efficient and competitive. All the while providing them with the flexibility, scalability, and data management capabilities they need.
It is important to note that building and managing a custom cloud studio can be a complex and nuanced process. For studios interested in deploying their own custom studios on the AWS cloud, it can be beneficial to partner with an AWS-recognized Advanced Tier Services partner like TrackIt to ensure a seamless and successful deployment.
About TrackIt
TrackIt is an Amazon Web Services Advanced Consulting Partner specializing in cloud management, consulting, and software development solutions based in Marina del Rey, CA.
TrackIt specializes in Modern Software Development, DevOps, Infrastructure-As-Code, Serverless, CI/CD, and Containerization with specialized expertise in Media & Entertainment workflows, High-Performance Computing environments, and data storage.
TrackIt's forté is cutting-edge software design with deep expertise in containerization, serverless architectures, and innovative pipeline development. The TrackIt team can help you architect, design, build and deploy a customized solution tailored to your exact requirements.
In addition to providing cloud management, consulting, and modern software development services, TrackIt also provides an open-source AWS cost management tool that allows users to optimize their costs and resources on AWS.