DeepScan by TrackIt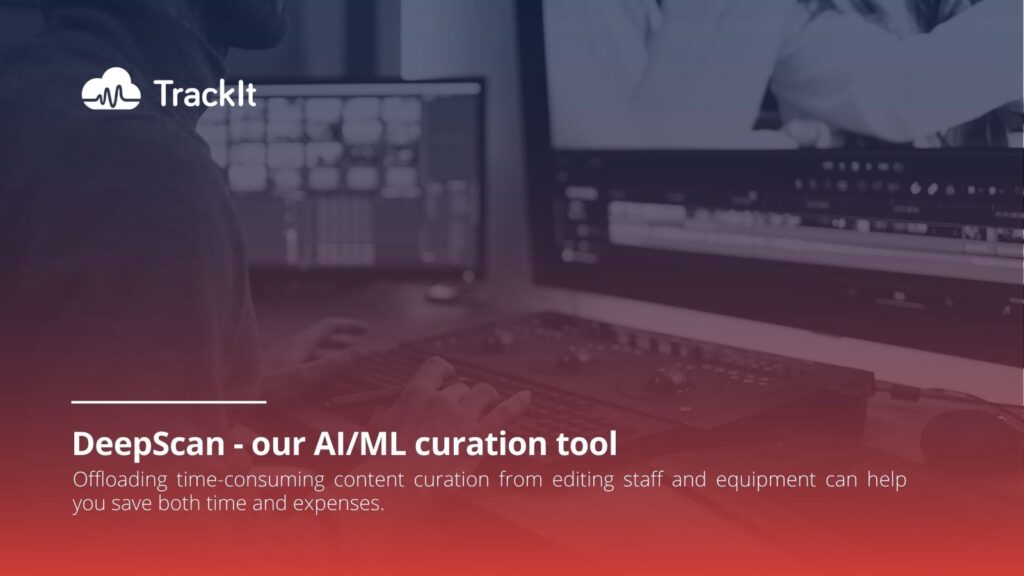 DeepScan is a web-based application that analyzes uploaded video and audio content and scans it using Artificial Intelligence (AI) and Machine Learning (ML) to identify user defined suggestive content quickly. Items of interest are timecode marked and exported to popular editing systems for final review, greatly reducing the time and expense of manual content curation.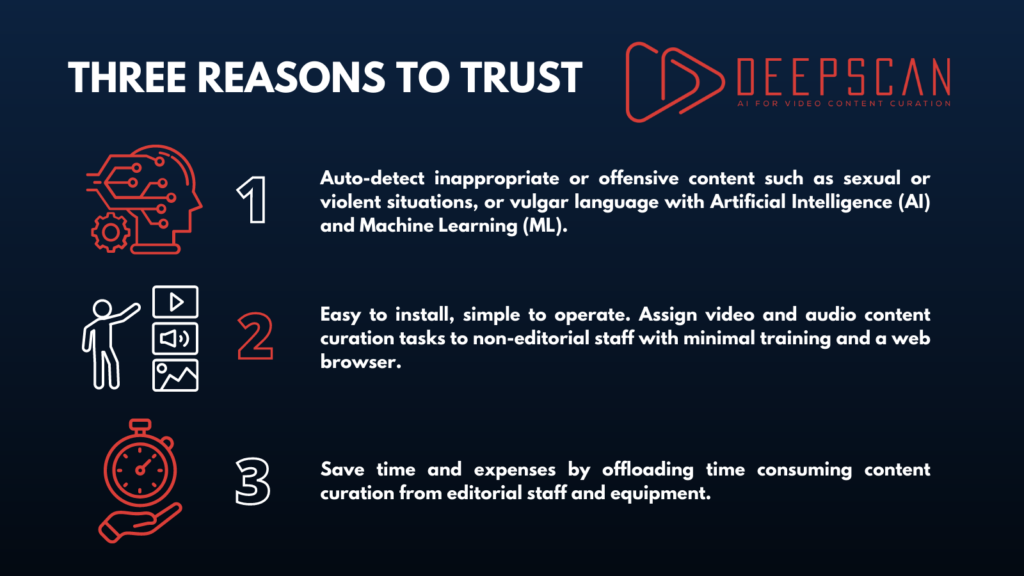 Product Overview
DeepScan is a web-based application designed by TrackIt to assist in the analyzing of video and audio content to identify inappropriate visual imagery and user defined speech. The automated content curation engine uses Artificial Intelligence (AI) and Machine Learning (ML) to greatly reduce the editorial staff and equipment required to review media content manually.
Our TrackIt curation tool helps to meet local content restriction guidelines and provide a more positive audience experience with a simple and easy process. Once content has been uploaded, it can be reviewed through a traditional video player interface. After initiating the scan with the AI/ML engine, potential issues are identified and a series of time-code based markers are generated. Markers can be deleted or preserved, and additional comments can be added to assist in the decision making process. After the completed review, a Marker Decision List can be exported as a CSV or XML file for integration with popular video editing software.
Our AI/ML tool is friendly enough to be operated by non-editorial staff with minimal training. Plus, as a cloud based application, operators can be located anywhere, and can handle large volumes of content on a daily basis. The application comes pre-configured to recognize inappropriate or offensive visual content (see list below), and a list of words can be defined by the operator to mark inappropriate audio content. Now it is faster and more affordable to meet localization requirements and protect image branding.
---
Inappropriate or Offensive Visual Content Options :
Explicit Nudity
Nudity
Graphic Male Nudity
Graphic Female Nudity
Sexual Activity
Illustrated Explicit Nudity
Adult Toys
Suggestive
Female Swimwear Or Underwear
Male Swimwear Or Underwear
Partial Nudity
Barechested Male
Revealing Clothes
Sexual Situations
Rude Gestures
Violence
Graphic Violence Or Gore
Physical Violence
Weapon Violence
Weapons
Self Injury
Visually Disturbing
Emaciated Bodies
Corpses
Hanging
Air Crash
Explosions And Blasts
Drugs
Drug Products
Drug Use
Pills
Drug Paraphernalia
Tobacco
Alcohol
Drinking
Alcoholic Beverages
Gambling
Hate Symbols
Nazi Party
White Supremacy
Extremist
---
---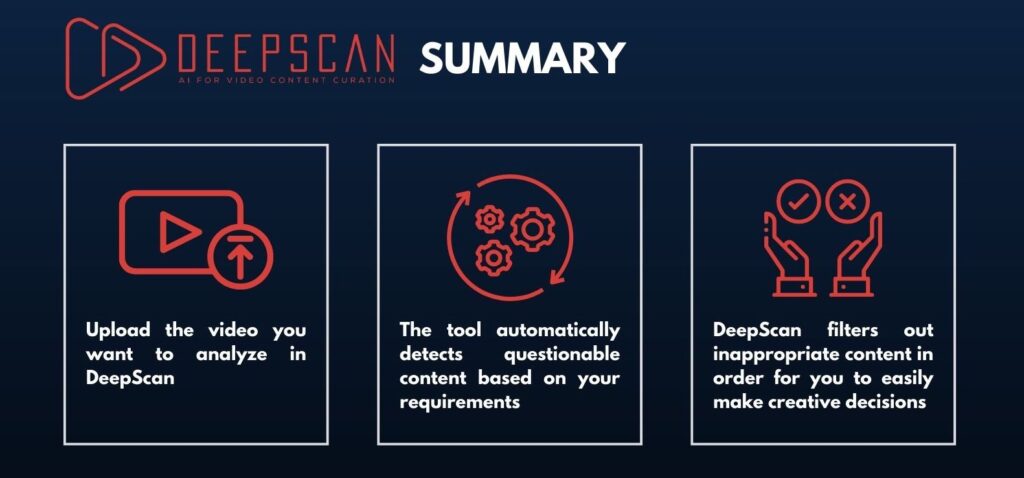 About TrackIt
TrackIt is an Amazon Web Services Advanced Tier Services Partner specializing in cloud management, consulting, and software development solutions based in Marina del Rey, CA.
TrackIt specializes in Modern Software Development, DevOps, Infrastructure-As-Code, Serverless, CI/CD, and Containerization with specialized expertise in Media & Entertainment workflows, High-Performance Computing environments, and data storage.
In addition to providing cloud management, consulting, and modern software development services, TrackIt also provides an open-source AWS cost management tool that allows users to optimize their costs and resources on AWS.