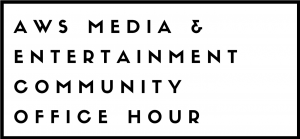 Are you interested in a monthly meet-up focused on any and all things Media & Entertainment in the AWS Cloud?
The world of capabilities available for building Cloud-based media workflows is an extremely dynamic one.  Tools (notably including AI & Machine Learning) are being introduced and advancing at a rapid pace, with adoption accelerating to hyperdrive – especially due to the pandemic to facilitate remote access.
Since no one person (or company for that matter – even AWS itself) can be an expert in every facet of such a complex ecosystem we often find ourselves networking to a broader community to discover and share best practices, tips and tricks, etc.
So…  we thought that we'd try to create a virtual meet-up once a month to build a community around media workflows in AWS!  While we'll host the monthly event, our intent is to simply create an open forum for discussions around all things Media in AWS – no sort of sales activity!
We've also created an "AWS Media & Entertainment Community" group on LinkedIn: https://www.linkedin.com/groups/13891184/
If you are interested in attending the inaugural "AWS M&E Office Hour" meet up (first one scheduled for Thursday August 27, 2020 at 11am to Noon) let us know:
https://share.hsforms.com/1HV2rKY9YQRqx-D7V0RtPXg3w9p2
We hope you join us in advancing and enhancing our use of the cloud in media!
Five reasons you can be interesting in joining this meet-up group about AWS regarding media and entertainment:
1. Learn about the latest developments: Cloud-based media workflows are evolving at a rapid pace, with new tools and capabilities being introduced frequently. Attending a meet-up group can help you stay up-to-date with the latest developments, and learn how others are implementing new technologies and workflows.
2. Network with industry peers: Meet-up groups provide a great opportunity to connect with others in the media and entertainment industry who are using AWS cloud services. You can exchange ideas, share best practices, and build relationships with peers who have similar interests and challenges.
3. Get help with technical issues: If you're working on a project that involves AWS cloud services and you run into technical issues, a meet-up group can be a great place to get help. There may be other members who have experienced similar issues and can offer advice and guidance.
4. Participate in discussions and share knowledge: Meet-up groups typically provide a forum for discussion, where members can ask questions and share their experiences. This can be a great way to learn from others, as well as to contribute your own knowledge and expertise.
5. Stay motivated and engaged: Working in media and entertainment can be challenging, and it's easy to get bogged down in day-to-day tasks. Attending a meet-up group can help you stay motivated and engaged by providing opportunities to learn new things, connect with others, and explore new ideas.
About TrackIt
TrackIt, an Amazon Web Services Advanced Consulting Partner based in Marina del Rey, CA, offers a range of cloud management, consulting, and software development solutions. Their expertise includes Modern Software Development, DevOps, Infrastructure-As-Code, Serverless, CI/CD, and Containerization, with a focus on Media & Entertainment workflows, High-Performance Computing environments, and data storage.
TrackIt excels in cutting-edge software design, particularly in the areas of containerization, serverless architectures, and pipeline development. The company's team of experts can help you design and deploy a custom solution tailored to your specific needs.
In addition to cloud management and modern software development services, TrackIt also provides an open-source AWS cost management tool to help users optimize their costs and resources on the platform. With its innovative approach and expertise, TrackIt is the ideal partner for organizations seeking to maximize the potential of their cloud infrastructure.