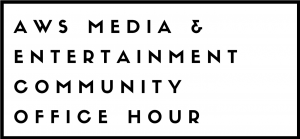 Are you interested in a monthly meet-up focused on any and all things Media & Entertainment in the AWS Cloud?
The world of capabilities available for building Cloud-based media workflows is an extremely dynamic one. Tools (notably including AI & Machine Learning) are being introduced and advancing at a rapid pace, with adoption accelerating to hyperdrive – especially due to the pandemic to facilitate remote access.
Since no one person (or company for that matter – even AWS itself) can be an expert in every facet of such a complex ecosystem we often find ourselves networking to a broader community to discover and share best practices, tips and tricks, etc.
So… we thought that we'd try to create a virtual meet-up once a month to build a community around media workflows in AWS! While we'll host the monthly event, our intent is to simply create an open forum for discussions around all things Media in AWS – no sort of sales activity!
We've also created an "AWS Media & Entertainment Community" group on LinkedIn: https://www.linkedin.com/groups/13891184/
If you are interested in attending the inaugural "AWS M&E Office Hour" meet up (first one scheduled for Thursday August 27, 2020 at 11am to Noon) let us know: https://share.hsforms.com/1HV2rKY9YQRqx-D7V0RtPXg3w9p2
We hope you join us in advancing and enhancing our use of the cloud in media!