Amazon CloudWatch is a monitoring service for AWS cloud resources and the applications you run on AWS. CloudWatch gives users the ability to collect and track metrics, collect and monitor log files, set alarms, and automatically react to changes in AWS resources. The metrics provided by CloudWatch usually help developers in making the necessary upgrades to better match their requirements and to boost performance. Although the process of gathering data is something that CloudWatch does automatically, setting up alarms effectively is something that users must learn to do.

An alarm created on CloudWatch can be used to track a single metric or a result of a mathematical expression based on CloudWatch metrics. The alarm performs one or more actions based on the value of the metric/expression in relation to a threshold over a number of time periods. The right use of CloudWatch alarms can significantly simplify the process of monitoring your resources and help you in rapidly shifting your focus towards the areas that need your attention.
Creating an Alarm on CloudWatch:
On AWS Console, go to CloudWatch panel
Select "Alarms" in the left menu
Click on "Create Alarm"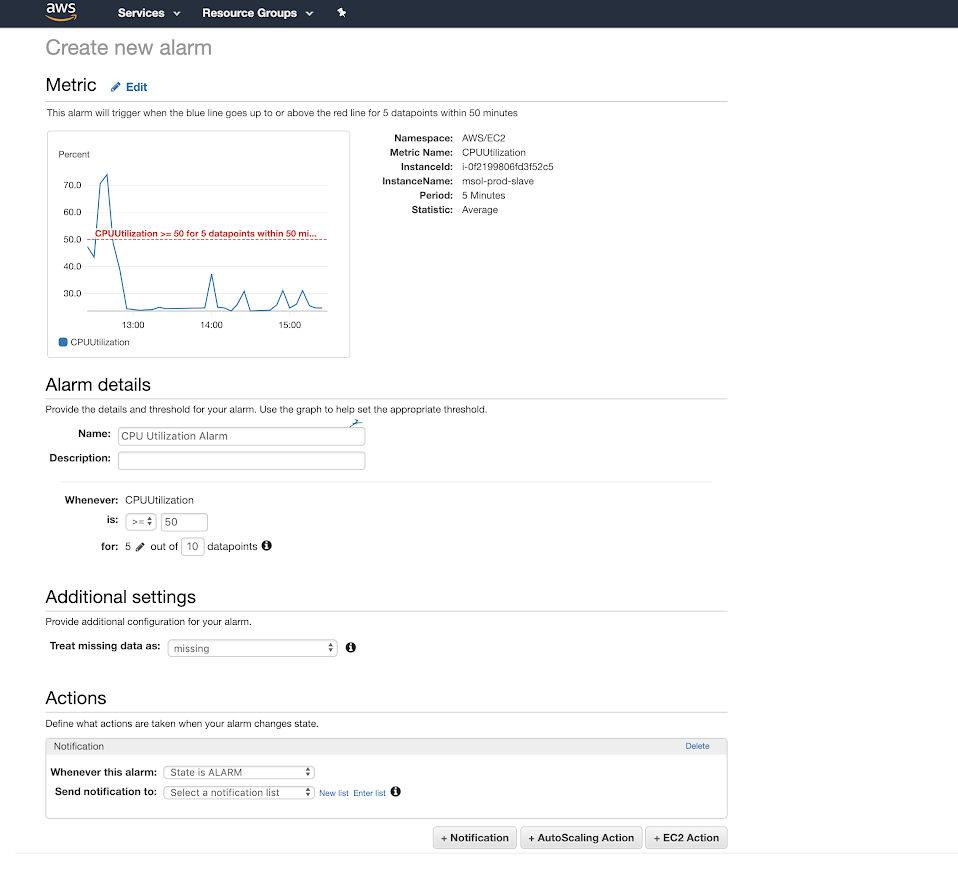 In the example above, the alarm created is set to alert the user if the CPU Utilization for an EC2 Instance goes above 50% for at least 5 minutes in a 10-minute interval.

If used wisely, alarms can also help users in identifying potential leaks in their budget. Strategically created alarms often prove to be extremely useful tools when it comes to optimizing one's ROI on AWS.

Below is a screenshot that illustrates how alarms appear on CloudWatch:
The screenshot shown above shows the evolution of three separate metrics: ElasticSearch CPU Usage, MariaDB CPU Usage, and ElasticSearch Storage. The graph that we'll be focusing on – the one with the alarm – is the one on the top-right corner: ElasticSearch Storage. Here's a screenshot of just this one graph: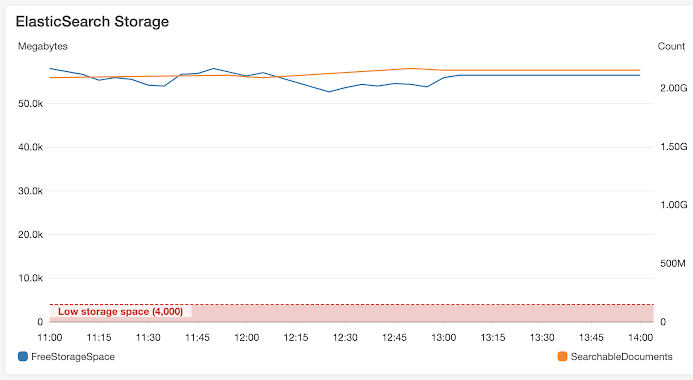 The alarm set for this metric – the red zone which you can see at the bottom of the graph – is set to alert the user when the blue line (FreeStorageSpace) falls into the red zone (Low storage space: Below 4,000 Megabytes.)
TrackIt – CloudWatch and Account Monitoring Taken to the Next Level
Tracking metrics on CloudWatch often turns out be an arduous process, especially when users have multiple accounts that need constant monitoring. TrackIt simplifies this process for AWS users by combining the billing and CloudWatch data from multiple accounts. Users are thus provided with the luxury of being able to effectively monitor all their accounts and resources from a single location. Here's a screenshot of how this looks on TrackIt:
As you can see, users are provided with billing data and metric usage data from CloudWatch gathered from different accounts in a single dashboard. Let us focus on the 'VMs' section to discuss just how useful this can be to users. Here's a zoom-in on just the VMs section: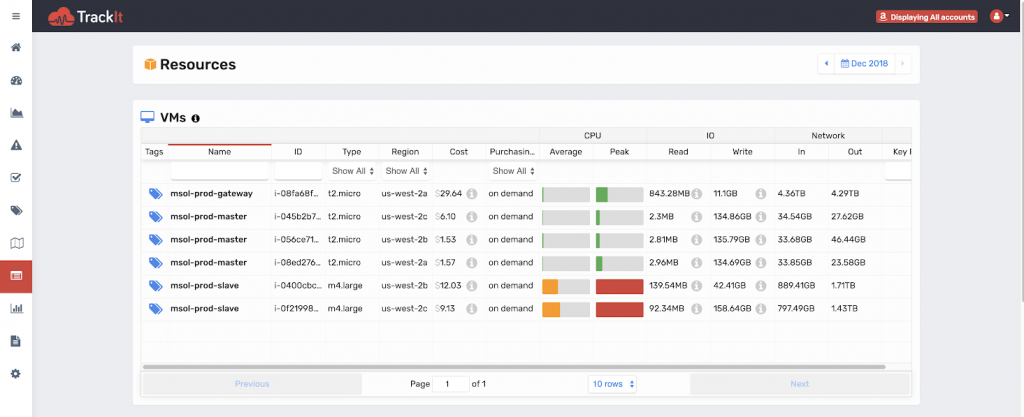 In this screenshot, billing and metric usage data gathered from different accounts have been provided for 6 different resources. Users are also given information on the 'Average Usage' and 'Peak Usage' of each resource to knows whether each of these resources is (not) being used to its fullest potential. This allows them to easily identify resources that need to be upgraded/downgraded based on their average and peak usage. For example, in this screenshot, the first 4 resources are not being used to their fullest potential – average usage very low, peak usage also very low. As a result, they need to be downgraded. However, the last two in the list have a decent average usage, and a near 100% peak usage. As a result, they may be conserved or even upgraded based on future needs.

In addition to this, TrackIt also analyzes this data to provide the user with a monthly estimate of potential savings for Unused Resources on AWS.
In conclusion, it is important to note that effective tools are being developed at dumbfounding speeds in each and every technological sphere, but what's more important than the tools themselves is the knowledge necessary to use these tools effectively. CloudWatch and TrackIt, when used in the right way, can save users a lot of money and prevent the hassle that usually goes into managing resources on AWS. However, users need to be keen on educating themselves in order to reap the rewards that these tools have the potential to provide.