At the 2023 HPA Tech Retreat in Rancho Mirage, CA, the TrackIt team demonstrated an AWS studio in the cloud environment with their technology partners HP Anyware and Hammerspace, showcasing the capabilities of Teradici's Cloud Access Software and PCoIP technology for virtual desktops and workstations and Hammerspace Global Data Environment for shared storage access.
During the demonstration, two instances of HP Anyware were deployed in North American and Eastern European AWS Availability Zones. The first instance ran Linux for VFX and Color Grading using Autodesk Flame, while the other instance ran Windows for Editing and Transcoding using DaVinci Resolve 18 & Colorfront Transkoder. Both HP Anyware instances were connected with Hammerspace for seamless file sharing in a multi-region environment.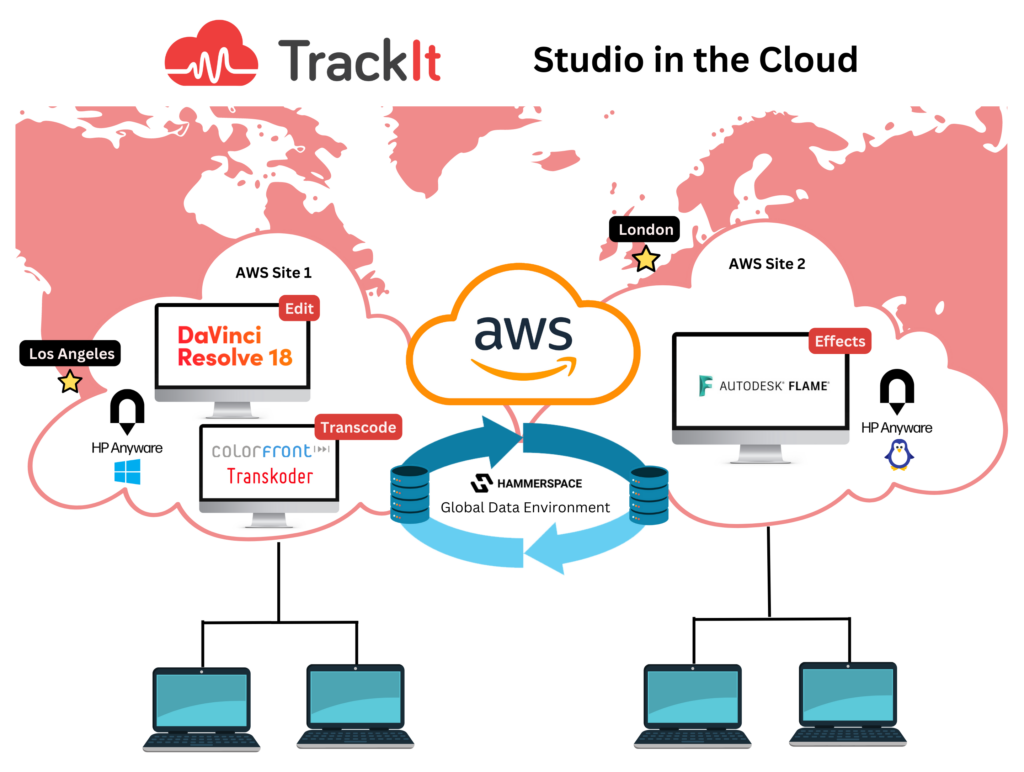 The live demonstration by TrackIt was designed to simulate a real-world post-production collaborative experience incorporating industry-relevant tools between end users on two different continents, demonstrating the potential for HP Anyware and Hammersapce to enable seamless collaboration between creative professionals located in different parts of the world. 
The Workflow
The workflow demonstrated by TrackIt simulated a back-and-forth collaboration effort between end users in two different AWS Availability Zones.
Step #1. Video and audio content was ingested in the North American AWS Availability Zone for editing with DaVinci Resolve 18. 
Step #2. After editing, files were accessible in the Western European Availability Zone for VFX and color timing on Autodesk Flame. 
Step #3. For final distribution, master files were accessible again in the North American Availability Zone for transcoding with Colorfornt Transkoder.
"What we are demonstrating at HPA is very similar to the M&E workflows that we are building for our customers. Distributed environments across multiple regions with instant access to media are becoming the norm for productions of all sizes. AWS, HP, and Hammerspace have made it affordable for almost any production to utilize artists from all over the world. We are able to design solutions and bring it all together while keeping within budget and security restrictions."
– Brad Winett, President, TrackIt
In addition to showcasing the AWS Studio in the Cloud, the TrackIt team also demonstrated several of its web-based applications, including CloudWise, a managed services portal, TrackFlix, a video streaming service, and DeepScan, an AI video/audio content curation tool.
About HP Anyware
HP Anyware, developed by Teradici and HP, is a new solution for digital workspaces that enables organizations to deploy and manage virtual desktops and workstations in a hybrid cloud environment. The solution uses Teradici's Cloud Access Software and PCoIP technology to provide a high-performance, secure, and reliable remote access experience.
HP Anyware is designed to support a variety of use cases, including remote work, collaboration, and digital design, and includes a centralized management console that enables IT administrators to manage virtual desktops and workstations from a single interface. The console offers features such as user and device management, reporting, and analytics.
HP Anyware, as demonstrated by the TrackIt team at the HPA Tech Retreat 2023, represents a promising solution for media companies looking to deploy and manage virtual desktops and workstations in a hybrid cloud environment. 
About Hammerspace
Hammerspace is a data management solution that allows companies to create and manage multi-cloud and hybrid storage volumes that are fully integrated with their cloud studios. Companies that integrate Hammerspace in their custom cloud studios gain the ability to have a seamless and consistent storage platform across compute environments, whether it's on-premises, multi-cloud, or hybrid. 
About TrackIt
TrackIt, an Amazon Web Services Advanced Consulting Partner based in Marina del Rey, CA, offers a range of cloud management, consulting, and software development solutions. Their expertise includes Modern Software Development, DevOps, Infrastructure-As-Code, Serverless, CI/CD, and Containerization, with a focus on Media & Entertainment workflows, High-Performance Computing environments, and data storage.
TrackIt excels in cutting-edge software design, particularly in the areas of containerization, serverless architectures, and pipeline development. The company's team of experts can help you design and deploy a custom solution tailored to your specific needs.
In addition to cloud management and modern software development services, TrackIt also provides an open-source AWS cost management tool to help users optimize their costs and resources on the platform. With its innovative approach and expertise, TrackIt is the ideal partner for organizations seeking to maximize the potential of their cloud infrastructure.