Hammerspace + TrackIt
A fully integrated and deployed Global Data Environment for Hybrid Cloud and Multi-Data Center NAS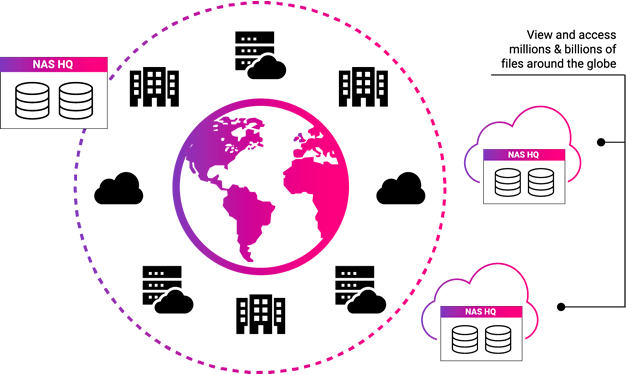 Source: hammerspace.com
Overview
Hammerspace is a solution for hybrid cloud and multi-site NAS leveraging Global Data Environment, Policy-Driven File-Granular Mobility and Replication, and Intelligent Data Orchestration across any storage and cloud.​ It is extremely easy to deploy Hammerspace in the cloud. The policy-based file-granular data services and their data orchestration capabilities are a game-changer for the industry. 
As a Hammerspace integration partner, TrackIt will design, deploy, integrate and document your AWS Cloud and On-Premises environments to provide an "out-of-the-box" experience – ensuring you get up and running quickly, using engineering best-practices and utilizing the most efficient infrastructure resources possible.
Features
Expert Integration by TrackIt, all backed by the Hammerspace team
Policy-Driven File-Granular Mobility and Replication​
Data Orchestration Across Any Storage and Cloud​
Data-in-Place Assimilation: No Migrations Required​
Use Existing Storage Including NAS, SAN, DAS and Object Storage​
Automate Workflows, Protection, Tiering and More​
Undelete and File Versioning to Recover from Disasters and Ransomware​
Customizable Metadata to Classify and Manage Data​
Multi-protocol Support for NFS and SMB​ ​
TrackIt has the experience, the skills, and the resources available to deploy Production solutions or Proof of Concepts of Hammerspace's Global Data Environment. TrackIt can accelerate your implementation efforts and provide the documentation, training, and support to ensure your ongoing success.
About TrackIt
TrackIt is an Amazon Web Services Advanced Consulting Partner specializing in cloud management, consulting, and software development solutions based in Marina del Rey, CA.
TrackIt specializes in Modern Software Development, DevOps, Infrastructure-As-Code, Serverless, CI/CD, and Containerization with specialized expertise in Media & Entertainment workflows, High-Performance Computing environments, and data storage.
TrackIt's forté is cutting-edge software design with deep expertise in containerization, serverless architectures, and innovative pipeline development. The TrackIt team can help you architect, design, build and deploy a customized solution tailored to your exact requirements.
In addition to providing cloud management, consulting, and modern software development services, TrackIt also provides an open-source AWS cost management tool that allows users to optimize their costs and resources on AWS.