Amazon Chime SDK
The Amazon Chime SDK is a set of real-time communications components that can be used to quickly add audio, video, and screen sharing capabilities to web or mobile applications. This feature allows companies to leverage the same communication infrastructure and services that power Amazon Chime, an online meeting service from AWS, and deliver engaging experiences in their applications.
---
---
---


TrackIt ♦ An Amazon Chime Partner
TrackIt is one of the few AWS Advanced Consulting Partners uniquely equipped to serve companies looking to leverage Amazon Chime.
TrackIt's expertise with API Integration coupled with its focus in Modern Software Development and Media & Video workflows make it an ideal partner to help integrate the Chime platform tailored to your organization's needs.
---
Example Application Architecture Utilizing the Amazon Chime SDK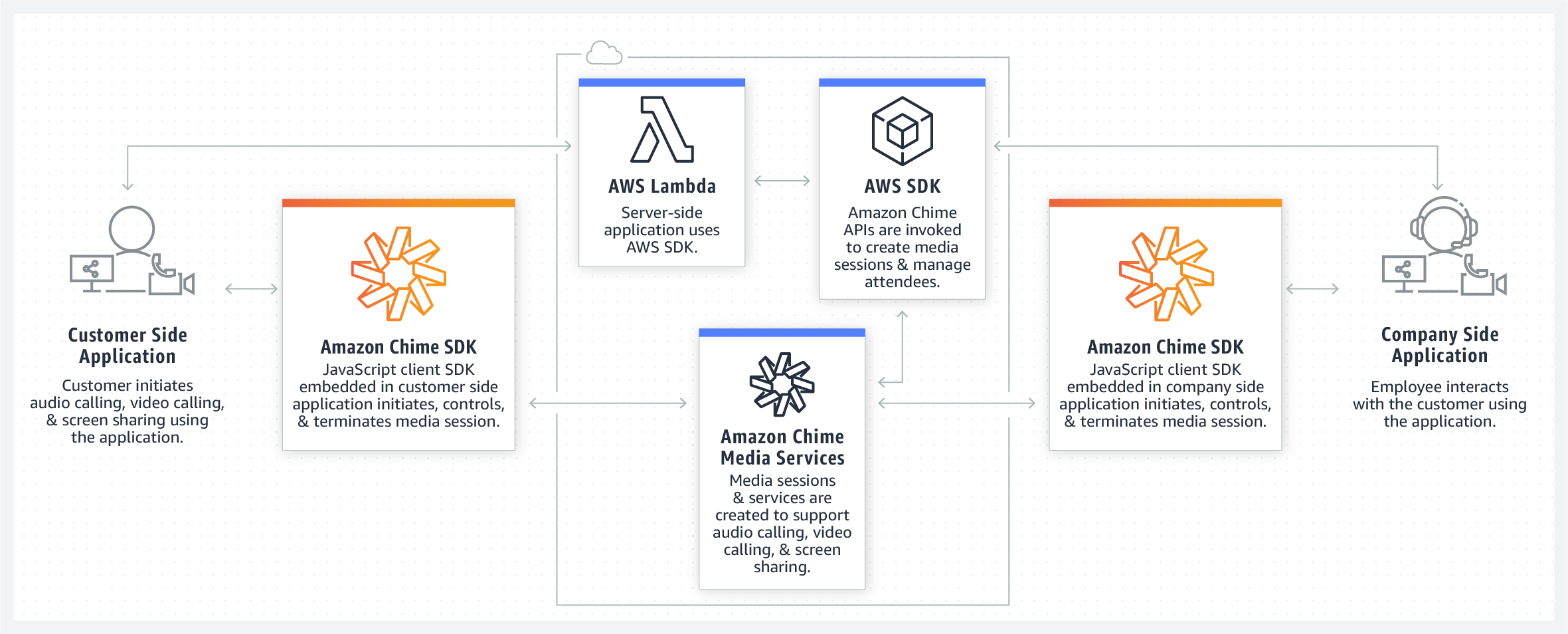 Source: AWS
Benefits
♦  Integrate real-time communication capabilities in your applications using Amazon SDK
♦  Accelerate development by integrating pre-built communication building blocks into your applications
♦  Simplify operations by deliver high-quality and reliable end-user experiences without needing to manage infrastructure, networking, and communications components 
♦  Integrate with other AWS and 3rd party services to extend application functionality
---
Use Cases
Gaming

Building high-quality multi-player audio and video interactions within games

---

Education

Enhancing e-learning experiences using high-quality audio and video

---

Telehealth

Embedding real-time communication capabilities within telehealth applications

---

Customer Support

Adding interactive experiences to customer support applications

Retail

Improving shopping experiences with real-time audio and video in stores and online

Broadcast OTT

Add rich interactive elements, enhancing viewer engagement in your Over-The-Top video presence
---
Case Study
Tutorials
Create a Live Event and a Video Call using Chime SDK
Deploy a Video Calling App with Chime SDK
How to Create Blurred Backgrounds with Amazon Chime SDK on a Web Browser
Articles & Whitepapers
Creating a Custom Zoom for Your Organization – Yes It's Possible & Also Quite Realizable
---