Amazon Well-Architected Framework
---
TrackIt provides AWS Well-Architected Framework reviews that guide you in building solutions using established best-practices for secure, reliable, scalable, and cost-effective AWS cloud solutions.  And these reviews are at no cost to you!
Chapter 1 (0:00): Well-Architected Framework Intro
Chapter 2 (02:20): Why the Well-Architected Review
Chapter 3 (05:12): What is the Well-Architected Framework
Chapter 4 (06:50): Operational Excellence Pillar
Chapter 5 (09:21): Security Pillar
Chapter 6 (10:58): Reliability Pillar
Chapter 7 (11:06): Performance Efficiency Pillar
Chapter 8 (14:36): Cost Optimization Pillar
Chapter 9 (17:14): AWS Partner-led Reviews
Chapter 10 (20.32): Intent of a Review
---

The AWS Well-Architected  Review and TrackIt Infrastructure Assessment
The AWS Well-Architected Framework review provided by TrackIt is a structured process that takes a strategic look at your implementation of the 5 Pillars used to build and operate a successful, efficient, and secure AWS workload.
Additionally, TrackIt includes a tactical infrastructure assessment that can provide concrete and actionable improvements to your AWS cloud implementation.
A Well-Architected Review can provide a variety of benefits.  AWS offerings are in a constant state of evolution, and thus best practices evolve along with them.  Optimizing your workloads over time by identifying new architectural options can help workloads run more efficiently, reliably and cost-effectively.
---
The AWS Five Pillars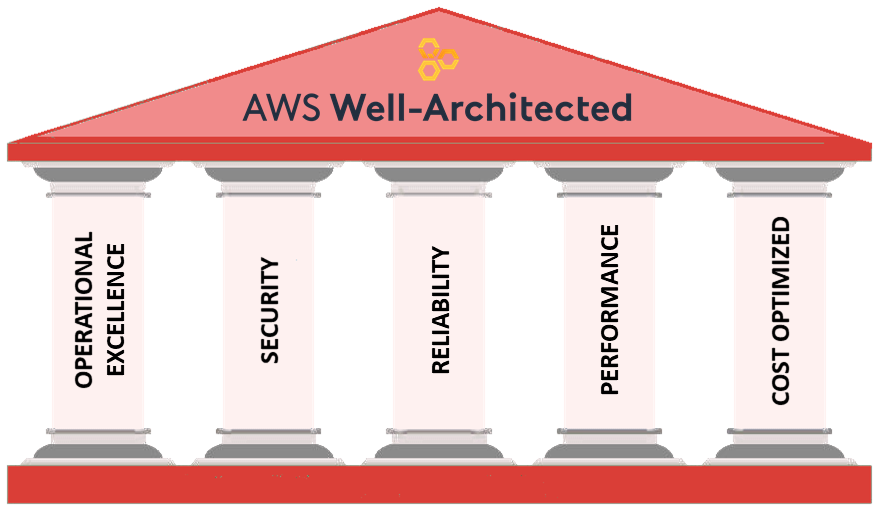 1. Operational Excellence
The ability to run and monitor systems to deliver business value and to continually improve supporting processes and procedures.
2. Security
The ability to protect information, systems, and assets while delivering business value through risk assessments and mitigation strategies.
3. Reliability
The ability of a system to recover from infrastructure or service disruptions, dynamically acquire computing resources to meet demand and mitigate disruptions such as misconfigurations or transient network issues.
4. Performance Efficiency
The ability to use computing resources efficiently to meet system requirements and to maintain that efficiency as demand changes and technologies evolve.
5 .Cost Optimization
The ability to avoid or eliminate unneeded costs or suboptimal resources.
---
The Well-Architected Review process is performed by trained TrackIt engineers per AWS guidelines.  More information may be found on the AWS Well-Architected Review landing page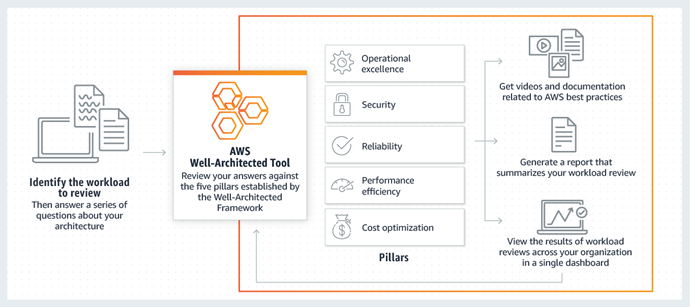 ---
The TrackIt Infrastructure Assessment
In addition to the AWS Well-Architected Framework Review, the TrackIt team provides an in-depth tactical review of your AWS environment that can identify immediate targets for improvement.
TrackIt's infrastructure assessment provides you with the following deliverables:
1. Security Report
A detailed report that asseses your current infrastructure instances, networking, storage, identity access management & security.
2. Cost Utilization and Optimization Report
The Cost vs. Utilization report will expose under or rarely used resources, provide sizing recommendations, and suggest pricing plans to optimize your costs and usage.
3. System Availability Review
Recommendations for improved system reliability, availability/redundancy and disaster recovery options will be documented if improvements are available.
4. Remediation Recommendations
TrackIt will provide tactical recommendations and a discussion to improve your overall AWS infrastructure and workflow.
---
Program Details
♦   Well-Architected Reviews are based on individual workloads.  Distinct workloads should have separate Reviews.  There is no limit to the number of reviews that may be performed, and we recommend that reviews be performed at least annually
♦   A Review will require several hours of interviews with your team members. After the interviews a discussion to review the results and any recommended remediation will be performed
♦   Prerequisites
◊ A preliminary understanding of the workload and any available architecture detail, diagrams, etc.
◊ Representation from all stakeholders in the workload is important; DevOps and Infrastructure engineers, Security and Support team representatives, etc.
◊ Read-only access to the AWS account and access to the Well-Architected Review service in the console.  Access is required as the Review is performed in conjunction with AWS and the process is managed through the portal; answers to the structured interviews are submitted on your behalf through your AWS account and tied to your Account ID
♦   Up to $5K in credits are available for remediation from AWS when delivered by TrackIt, an AWS Well-Architected Framework Partner.  TrackIt will create a detailed Statement of Work for credit eligibility and after the tasks are completed you must complete an AWS Customer Satisfaction Survey
---